Staying up to date with the latest literature mapping tools for academic research is a major part of any researcher's workflow from any domain.
Here, I list 9 innovative literature mapping tools every researcher needs to know.
Literature Mapping is nothing but a plan of action when finding literature for your academic research.
During the literature review, we often switch to various methods of searching and browsing. It is a tedious job.
Academic Researchers have to face many challenges during this phase to get the relevant papers.
In general, we find some relevant academic papers from various sources through keyword searching.
After receiving articles, we look at the references or citations of those articles.
This process guides researchers to identify interesting authors and their scholarly publications.
To alleviate the aforesaid issues and hassle-free literature maps, these citation-based literature mapping services play a pivotal role.
After taking one or more relevant seed papers and using various techniques, they recommend new ones that are similar to be integrated.
Various types of free science mapping software can automatically generate relevant related papers based on relevant seed papers.
Using the literature review mapping tools you can visualize them in a map or graph.
In this blog post, I have compiled a list of 9 powerful and innovative literature mapping tools for academic researchers.
You can use these smart software tools to increase the scale and scope of the literature for your projects.
Below is the list of 9 most useful tools for mapping research literature:
Citation Gecko
Inciteful
OpenKnowledge Map
Connected papers
Litmaps
Local citation Network
CoCites
VOSviewer
ResearchRabbit
List of 9 Innovative Literature Mapping Tools
#1 Citation Gecko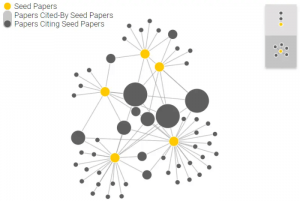 It is a free open-source robust literature discovery and reviews mapping web application.
This literature discovery tool helps you identify the relevant research papers.
The web app was developed by Barney Walker, Imperial College London in 2018 to assist relevant literature discovery to academic researchers.
It has been released as open-source on Github.
The handy research mapping digital tool allows you to build upon each other's scholarly works.
It uses open citation data to recommend relevant scholarly articles based on seed papers.
This literature mapping software takes some seed papers of your study of the field and identifies the relevant articles.
Besides, it also visualizes the citation network along with its size. You can also discover literature that you may have missed.
No technical knowledge is required to construct and visualize your relevant research articles.
You can do it just by entering some seed papers in the Citation Gecko.
The following sources are used to collect the data:
Open Citation corpus and open citation index of Crossref open DOI-to-DOI Citations.
In my previous post on how to identify relevant academic papers using the literature discovery tool, I elaborately discussed and demonstrated how to do literature mapping using the Citation Gecko.
#2 Inciteful

The literature mapping tool was launched in beta version on 19th December 2020.
It is a free discovery tool that allows researchers to discover relevant academic research papers in a short time frame.
The Incitefull lets you identify the scholarly material related to the particular topics you have.
To explore and categorize the literature the online tool uses citations.
After taking the paper of your interest, the mapping tool surfaces the most relevant papers based on open metadata and citations.
Academic researchers can import the BibTex file into the web app and export the BibTex file from this web app.
This facility makes the review of the literature easy.
In my earlier post on how to find relevant Research papers to speed up your literature review, I did a deep dive.
#3 OpenKnowledge – A Visual Interface to the World's Scientific Knowledge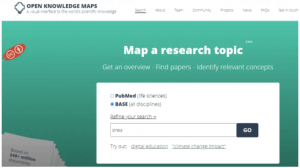 Open Knowledge Maps (OKMaps) is a free and easy-to-understand robust web application.
The literature mapping tool was developed as open-source and released under an MIT license.
Open Knowledge Maps is a charitable non-profit organization that was founded by Peter Kraker.
The digital tool lets you find the most relevant and credible research papers through a user-friendly graphical user interface.
Open Knowledge Maps allows you to search for the most relevant papers through Pubmed, BASE (Bielefeld Academic Search), and OpenAIRE.
The OKMaps is one of the world's largest visual search engines for scientific knowledge.
The web app provides a visual web interface to the world's scientific knowledge using knowledge maps.
You do not need to install any software for searching the most relevant scholarly publications.
In my blog post on how to find the most relevant research papers using a visual interface, I discussed and demonstrated the literature mapping tool.
#4 Connectedpapers
After a long beta version, the founders have released the Connected Papers software to the public.
The Connected Papers tool is a free and easy-to-understand smart software tool. This citations mapping tool lets you search the relevant and credible resources.
The innovative literature mapping tool has a user-friendly graphical user interface. You do not need to install any software.
You can use it through your desktop web browser. But, mobile browsers are not supported yet.
The working procedure of this tool is straightforward and easy to understand.
First, you just put a paper of your domain then it generates a graph that displays that part of paper space and their interconnectivity.
The graph is generated using a similarity metric based on the concepts of cocitations and bibliographic coupling.
Beyond that, it also provides additional functions to get the knowledge of "Prior works" and "Derivative works".
In my article, I demonstrated how to make a literature map using the Connected papers.
#5 Litmaps (Discover Science Faster)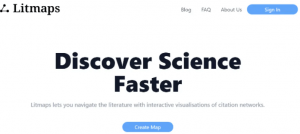 Litmaps is a handy interactive visualization tool for discovering scientific literature.
The project is designed and developed by the Litmaps team.
In order to visualize and explore the academic literature, the Litmaps tool is very useful for researchers.
The literature review mapping tool lets you build the interactive academic literature map of keywords, authors, or bibliographies.
Beyond that, this citation mapping tool also permits you to navigate the papers with interactive visualizations of citation graphs.
I have already blogged on how to discover scientific literature with an interactive visualization tool (Litmaps).
#6 Local Citation Network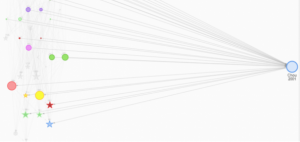 Local Citation Network is an online free, open-source, and easy-to-use citation network graph visualizer and is available on Github.
The research mapping tool helps you with literature review mapping.
This literature review mapping tool was developed by Tim Wölfle, physician-scientist, Imperial College London.
The citation mapping tool allows you to identify the seminal papers by building and visualizing citation networks.
Using citation network analysis, this tool does this work.
A Citation network is nothing but a visual network graph that lets you find and explore the influential papers using the number of citations.
In a blog post on free visualization tools to support the literature survey, I elaborately discussed and demonstrated the Local Citation Network.
#7 CoCites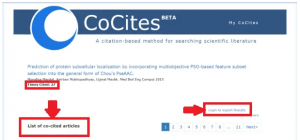 CoCites finds articles that are frequently cited together with an article of interest.
CoCites is developed by Dr. A. Cecile J.W. Janssens, a research professor at the Rollins School of Public Health of Emory University, USA.
It is one of the best co-citation-based tools for searching scientific articles. If the input paper has few or even no citations then it will not act properly.
After finding articles, it gives out a ranking of the most frequently Co-cited articles.
The data source of this software is the NIH Open Citation Collection (NIH-OCC), public access, broad coverage resources.
In the full version of CoCites, you will be able to:
Perform a co-citation search using multiple query articles
Find recently published articles through a citation search

Filter search results using a similarity score

Save your search queries for re-use and search updates
#8 VOSviewer – Visualizing Scientific Landscapes
VOSviewer is a software tool for constructing and visualizing bibliometric networks.
These networks may for instance include journals, researchers, or individual publications, and they can be constructed based on citation, bibliographic coupling, co-citation, or co-authorship relations.
VOSviewer Online is a web-based version of VOSviewer. It runs in a web browser and can be used to share interactive visualizations and embed these visualizations in online platforms.
#9 ResearchRabbit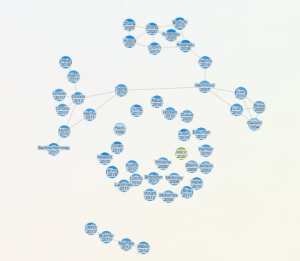 ResearchRabbit is a free new literature mapping web app. It is free forever for academic researchers.
This discovery app unlocks a completely novel way to search for academic papers and authors.
Besides, the online tool monitors new scholarly literature, visualizes research landscapes.
The citation-based literature mapping application lets you keep up with the latest research papers related to your collections!
Now, ResearchRabbit is out of beta version. You can use the tool to discover and visualize academic literature and its authors in new ways.
In general, the discovery tool takes one or more relevant seed papers.
After using various methods, the ResearchRabbit recommends new ones that are similar to be added.
One of the most important features of this discovery tool is that it provides co-authorship graphs providing another dimension for the researcher to explore the literature forest and add publications by authors.
You can integrate Zotero now, Zotero extension can be used as an extension.
You can bi-directionally link your Zotero folder with ResearchRabbit collections!
Like most other above-mentioned discovery apps, you can add specific articles using DOIs/PMIDs, title search, or by importing research papers through BibTeX or RIS.
In this post, I discussed the 9 best innovative literature mapping tools for academic research you need to know when starting your literature review.
Hopefully, this blog post was useful to you! What other discovery and science mapping tools have you used for academic research?
I would love to hear from you. Please feel free to comment below.