In this blog post, I will show you how to discover scientific literature with interactive visualization tool.
Here, I will walk you through the literature discovery and interactive visualization online web app Litmaps.
Navigating academic literature is laborious and boring. In general we use the academic search engines such as Google Scholar, CORE, Web of Science and BASE for discovering the articles.
Besides, we use citation management software like Zotero, Mendeley, Citavi and Rayyan to manage the citations.
Researchers have to face many challenges to obtain new academic literature as per their point of interest.
Generally we combine these tools for performing the literature review process.
In order to solve these issues the handy interactive visualization tool Litmaps has been developed.
If you want to accelerate your research and you want to discover papers smoothly by creating literature map, well you have come to the right place.
The project is designed and developed by the Litmaps team.
In order to visualize and explore the academic literature this robust tool is very useful for researchers.
At this moment, I will be discussing about the literature maps tool (Litmaps) for creating interactive visualization of scholarly articles.
The tool lets you build the interactive academic literature map of keywords, author or bibliographies.
Beyond that, it also allows you to navigate the scholarly paper with interactive visualizations of citation graphs.
Here are few more articles which will help you to discover academic research papers:
How to find and explore academic research papers using a visual tool.
How to find relevant Research papers to speed up your literature review.
But if you want to find the article quickly based on seed papers then you can use the CoCites also. I already demonstrated the online web app in this post.
How to Create Literature Map Using Interactive Visual Tool with Citation of Networks
The use of this network analysis software will help you to locate academic papers that are closely connected to your current project.
In the following section, I will walk you through a step by step process of working with Litmaps visualization tool.
Follow the below steps to discover the relevant scholarly literature faster using the interactive visualization online web application.
Step #1:
First thing you need to do is navigate to free online open access version web app.
Once you open the application, you will get something like: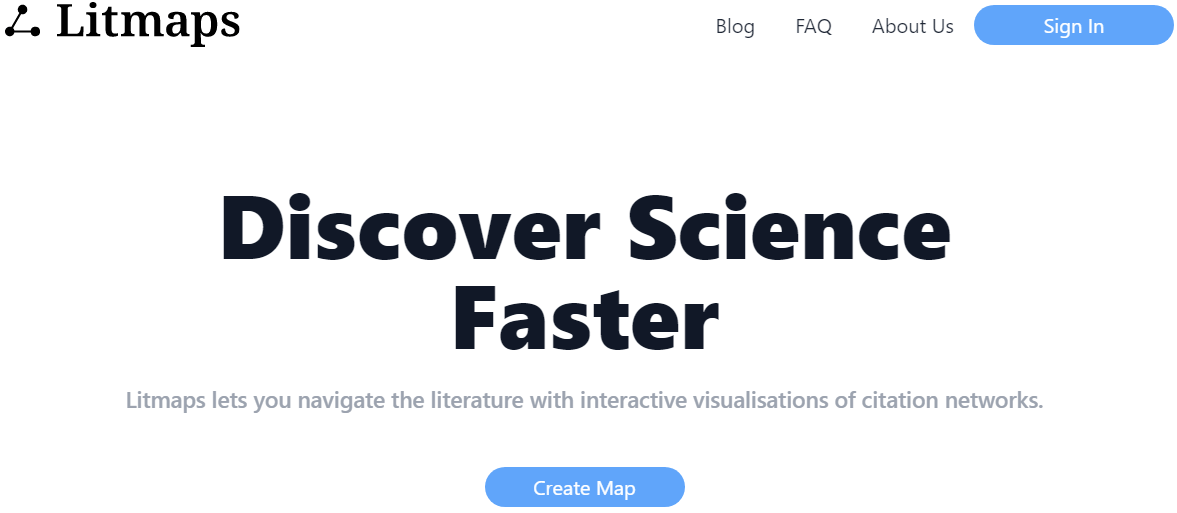 To create the literature map, you click on "Create Map" button.
Once you click it will direct you to the pop up: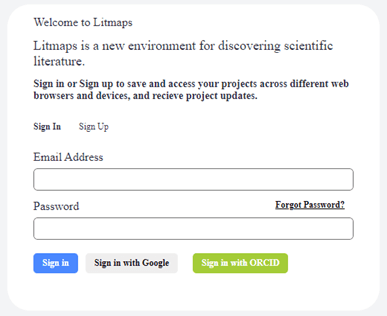 Before you start, you can sign in or sign up for creating and accessing your own project through your web browser on local machine.
Once you sign in, the below window will appear:
Now, you start creating literature map using the dashboard. You run the keyword search for generating the literature visualizations.
It is worth mentioning that you have to create an account to implement the project of your domain.
Once you create the project, then you can retrieve and export you discoveries on your machine.
There are various ways to discover and explore the academic papers:
Importing BibTex ( Using Citation Management Software like Zotero, EndNote, Mendeley)
Using list of DOIs (Digital Object Identifiers)
Using your ORCID ID
Through traditional keyword based search
In addition, you can also discover new research articles that you may have missed that related to your research.
Moreover, suggestion radar component of this web app suggests you scholarly articles which share citations with your own project.
In my case, I use traditional keyword based search. Begin by clicking the search button.
The below window will appear: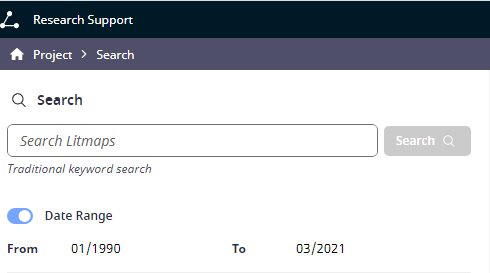 You can also select data range as per your choice.
Step #2:
Let us see how it works out with the term "Open Educational Resources".
To get started, you just insert a keyword as per your domain. Here, I use "Open Educational Resources".
After searching you add articles to your project in the dashboard.
It will visualize your project papers and literature map.
Once you run your "Open Educational Resources" search on this web app.
You will see the search results like this.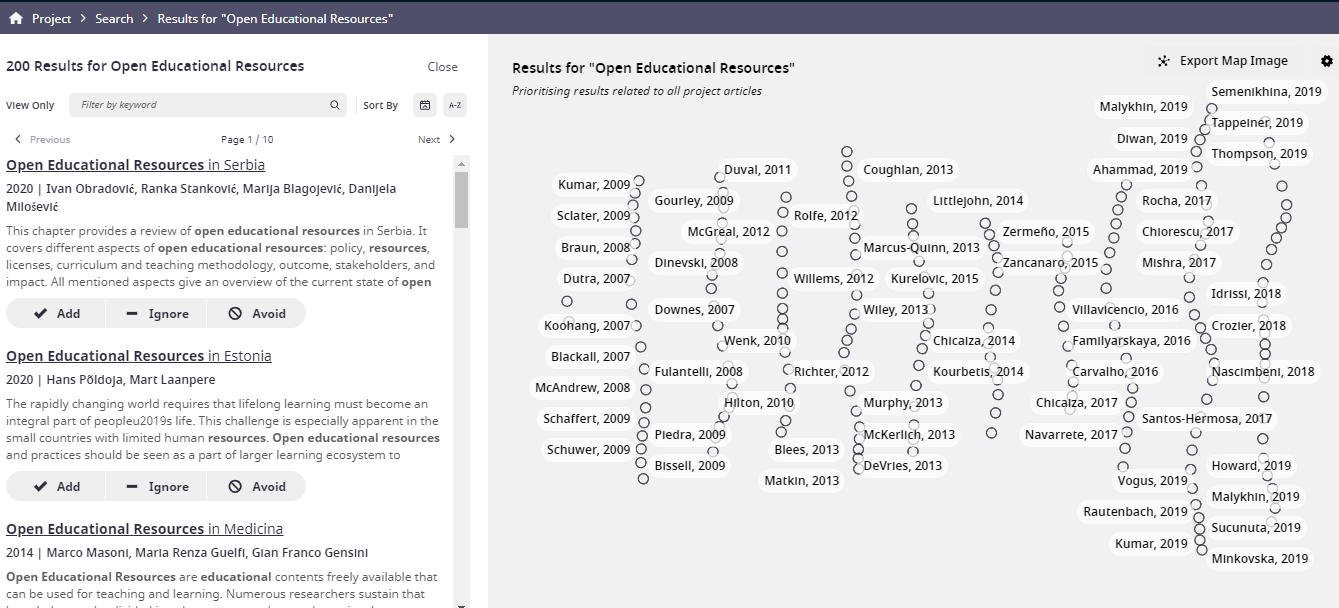 They use Microsoft Academic Graph as their main data source.
To discover the additional information speedily regarding your topic you hover over each circle in the "literature map".
Here is an example: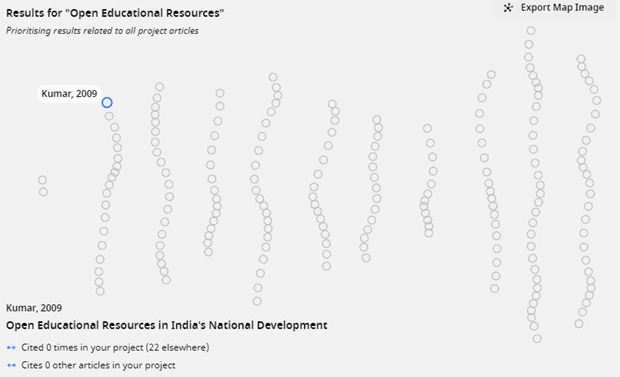 Using this process you can quickly generate an intuition of the distribution of citations.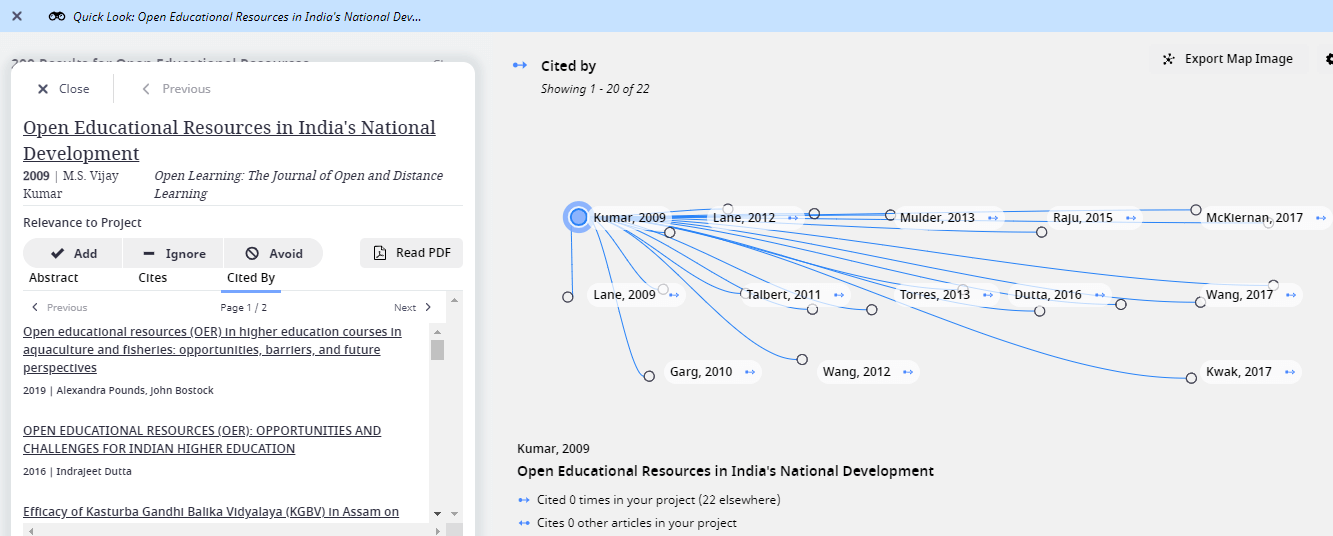 The dashboard displays the abstract and list of citations for Open Educational Resources.
Furthermore, it also shows a list of other scholarly papers which cite it.
On the right side of the dashboard, this web app visualizes of the scholarly articles which cite this article.
You can add the academic article if it is related to your project.
If you ignore it this paper would not display in your search results. In order to avoid this paper you can also select avoid button.
Besides, you can access the pdf version of the paper if it is available.
If you click on the title of the academic paper, you should see a screen like this:

The literature map online web app allows you to integrate keyword search with network analysis.
The "relevance search" tool displays search results prioritized by the number of citation connections to the current project.
You can export a bibliography as text, BibTeX, or an image of the literature map as PNG or PDF.
By clicking "Export Map Image", you can select the proper format (PNG or PDF) through the below popup: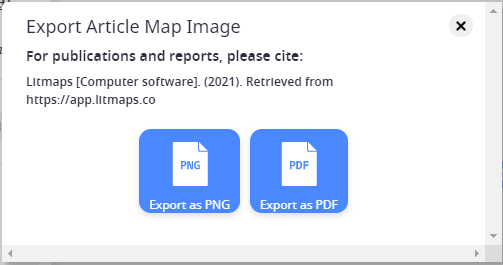 Here is an example of the literature map as PNG or PDF: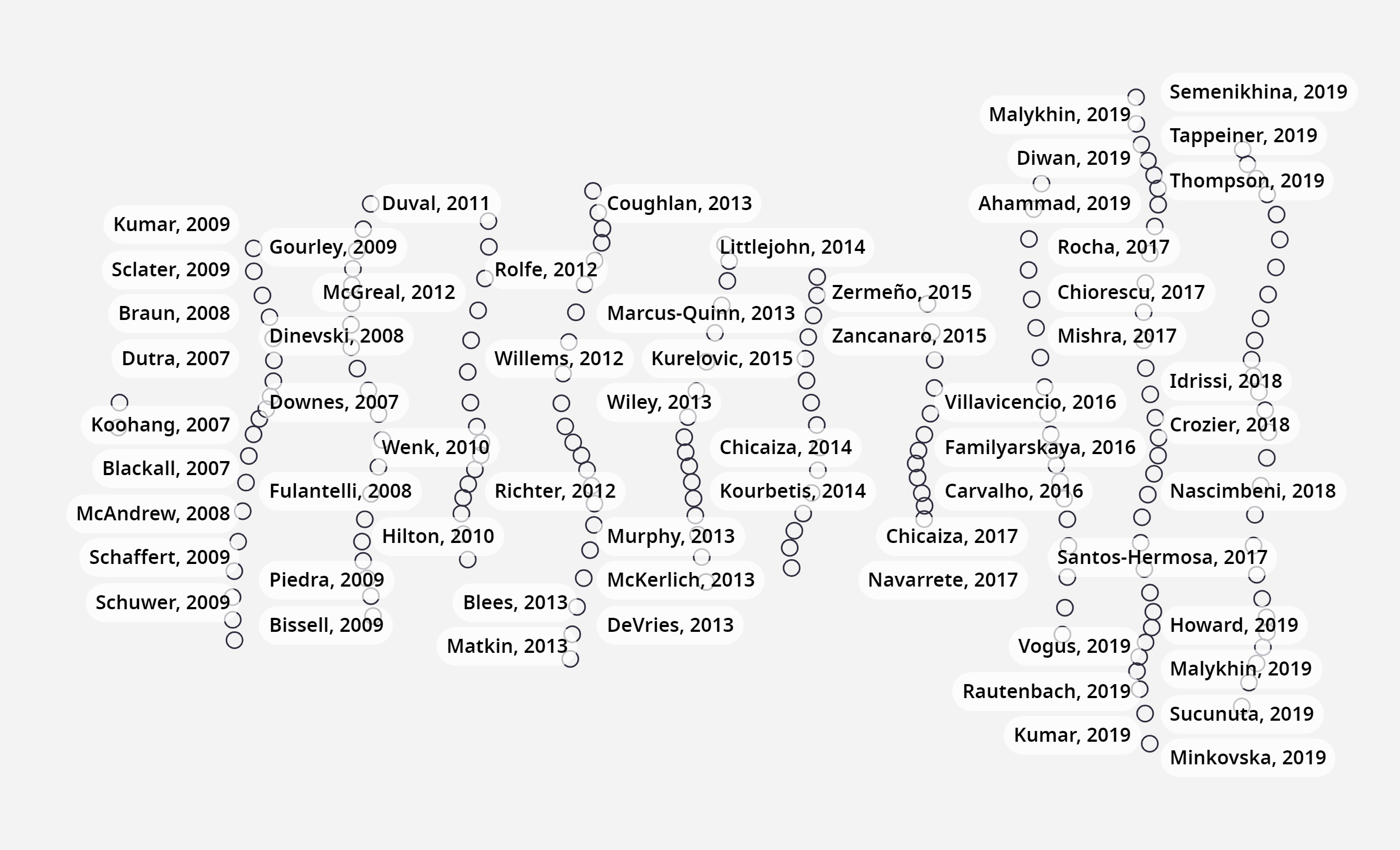 The Litmaps online interactive visualization tool saved me a lot of time and expedites the research.
Using Litmaps, you can create academic literature map and export your discoveries to expedite your research.
I already discussed how you can discover academic articles and use suggestion radar.
Litmaps is very useful when navigating the citation graph.
You can find scholarly articles through looking at articles citations and references.
This tool alleviates the challenges of exploratory and systematic search.
If you want to learn more about this robust web app and how does this network analysis tool work you go to this link- blog.
I hope this post was helpful and gave you some ideas on discovering scientific literature with interactive visualization tool.
Let me know in the comment box if you have any feedback.
Litmaps Frequently Asked Questions
Update 20/04/2021:
Of late they have included with the Citationsy to permit CitationsyArchives users to swiftly visualize the paper of their domain with the highest connected papers around it in a graph.
Updated on 19/06/2021
They announced that Litmaps is integrating with arXiv! This feature lets you create a citation map of the top connected research papers, and then explore the citation network around them.
For details read the following post –
Updated on 10/10/2021
Litmaps allows you to invite collaborators to your workspaces as per their last update.
Now, collaborators can edit or view maps to assist you build and share your work.