In this blog post, I will demonstrate a useful tool to generate single-sentence academic research paper summaries.
Information overload is one of the major problems many researchers are facing today.  Bertram Gross, a political science professor at Hunter College, coined the term "information overload."
Staying up to date with academic literature is one of the most important parts of any researchers' workflow.
In this blog post, I will walk you through the useful tool TLDRs (Too Long; Didn't Read) to generate single-sentence research paper summaries.
The AI based tool assists you to quickly determine which research papers are relevant.
TLDRs also provide ready-made paper summaries for explaining the work in various contexts, such as sharing a paper on social media.
TLDRs (Too Long; Didn't Read) are super-short summaries of the main objective and results of a scientific paper.
It uses expert background knowledge and the latest GPT-3 style NLP techniques for generating the super-short summaries.
In my previous  post, I  demonstrated on how to summarize an academic research article using AI-powered article summarizer and flashcard generator tool Scholarcy.
Besides, I also blogged on how to generate an automatic summary of research paper using the state-of-the-art online Paper Digest tool.
In Semantic Scholar, this new feature is accessible in beta for roughly 60 million research articles in the computer science, Biology and medicine discipline.
How to Generate Single-Sentence Academic Research Paper Summaries
In this section, I will show you demonstration using the useful tool TLDRs in order to generate the single-sentence summaries of academic research papers.
All you need to do is open the web apps.
Once you open the page, you will be taken the page below: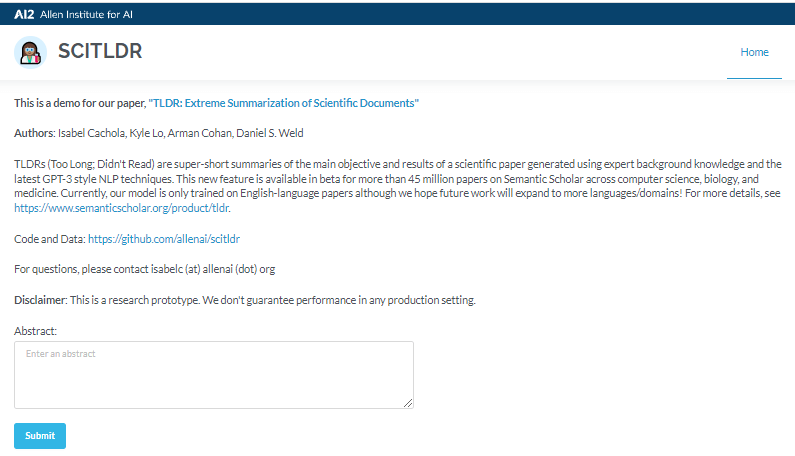 To generate single-sentence research paper summaries, abstract of the following paper has been selected.
"Towards a Decentralized and Distributed Framework for Open Educational Resources based on IPFS and Blockchain"
Now, I just paste the abstract of the paper in the window.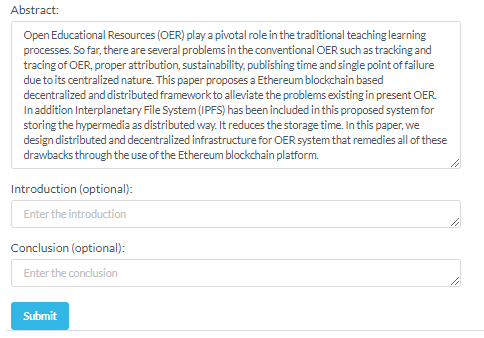 Once you click on the blue "Submit" button, you will get the result below:

To generate single-sentence summaries, the tool uses expert background knowledge and the latest GPT-3 style NLP techniques.
They have made  its code and data publicly available on Github.
If you want to try the tool then visit  working demonstration website.
Now, it is available in beta version on Semantic Scholar, an academic search engine developed by the non-profit Allen Institute for Artificial Intelligence (AI2) in Seattle, Washington.
It supports more than 60 million papers across computer science, biology, and medicine domain.
Below is the sample example ( Using Semantic Scholar) :

If you want to know more about the repository which holds the dataset and generation code for the paper go through the "TLDR: Extreme Summarization of Scientific Documents".
Hopefully, this blog post on useful tool to generate a single-sentence super-short summaries of research paper was useful to you! What other online summarizer tools have you used for the same purpose?
We would love to hear and learn from you. Please feel free to comment below.