Are you tired of submitting academic papers full of grammatical errors, typos, and other writing mistakes. The ultimate proofreading and editing tool editGPT has been exclusively developed for academic writing. The solution you have been searching for is here.
The editGPT makes proofreading, editing, and tracking changes to your paper in ChatGPT a breeze!
It's AI-powered technology goes beyond simple spell-checking and grammar correction. The tool ensures your academic writing is polished and error-free before submission.
The handy tool can detect and correct more complex errors, such as sentence structure and coherence issues with its advanced features.
This online proofreading tool does not only correct mistakes it lets you improve your writing skills as well.
The feedback system of this editing tool highlights areas of your document that need improvement and offers suggestions for how to make them better.
Besides, the track changes feature of the online tool makes it easy to collaborate with others on your writing projects.
You can make changes, leave comments, and have real-time discussions with your peers all within the same document.
Due to its cloud-based nature you can access it from anywhere, at any time. No more worrying about losing your work or not being able to access it on a different device.
Many academic researchers have already seen the benefits of using editGPT in their writing. It saves you time and aids you produce higher-quality work.
How to Install the Ultimate Tool editGPT for Proofreading and Editing
Here is a step-by-step guide on how to install the EditGPT Google Chrome extension:
Step #1
All you need to do is open the Google Chrome web browser on your computer.
Step #2
And go to the Chrome Web Store by typing "chrome.google.com/webstore" into the address bar and press the Enter.
Step #3
In the search bar at the top left corner of the page, type "editGPT" and press Enter. From the search results, click on the "editGPT" extension.
Step #4
Click on the "Add to Chrome" button located on the right side of the page. A pop-up window will appear asking you to confirm the installation. Click on "Add extension".
The extension will now be added to your Chrome browser. You should see the editGPT icon on the top right corner of the browser window.
Now. you have successfully installed the EditGPT Google Chrome plugin and can now use it to improve your writing.
In order to proofread and edit an academic documents like thesis,
dissertation
, there are certain steps you can follow.
At the very outset, you open the
ChatGPT platform
. Upon opening
ChatGPT
, a window will appear below along with a
"Editing Disabled"
button that can be enabled.
At the bottom of the page's menu bar, a button will become visible.
Now, you enter a prompt that contains the text you wish to edit, such as "Please proofread the following: [insert your text here]."
Click on button to turn on editing mode.
You can modify your text by selecting either the 'Accept' or 'Reject' buttons as needed. If you wish to accept all changes, you may copy the final text to the clipboard.
To retain the markup, you can copy the text and paste it when exporting to Microsoft Word.
The followings are the prompts you can use for editing and proofreading: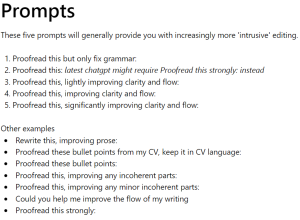 An example of proofreading using editGPT is provided below:
Overall, writing high-quality academic paper requires a lot of time and effort. Proofreading and editing your work is an essential step in producing polished and professional documents that will impress your readers and reviewers. That's why the tool is the perfect solution for academic researchers and PhD scholars.
As I already mentioned that AI-powered proofreading tool offers a wide range of features including grammar and spell checking, plagiarism detection, and track changes. Theses features make the editing process more efficient and effective.
By using "The Ultimate Proofreading and Editing Tool for Academic Writing" you can produce error-free and original academic papers that are sure to stand out.
So why not try it out for yourself and experience the benefits of this ultimate tool? Your academic success depends on it!