In this blog post, we will show you how to check the reliability of your references using Reference Check tool. Here, we use Scite's Reference Check to identify the reliable content automatically. 
We will walk you through the Scite's Reference Check, a robust state-of-the-art deep learning based tool. This tool tells you if citing papers support or dispute a source paper. 
Identifying reliable references manually is a challenging and time-consuming tasks for a researcher.  At the end of writing our papers, sometimes we use Anti-plagiarism software to protect the integrity of the manuscript.
As far as my knowledge is concerned, this software can not check retraction. In addition to that it is difficult tasks to handle the following issues:
Whether any of your references have been retracted or not
Have they been disputed
How to detect references with editorial concerns
Context of citation
In general, how they have been used
Scite's Reference Check  tool can  alleviate the above mentioned issues automatically.
Scite platform lets you discover and evaluate scientific papers via smart citations. Besides, the software shows you the context of the citation. You can also see how an article has been cited and whether the paper provides supporting or contradicting evidence.
This platform lets you see if a scientific papers have been supportive or contradicted by subsequent work.
How to Identify Reliable Sources of your References using Scite's Reference Check Tool
In this section, we will show you how to use this Reference Check bot for checking the reliability of the references. This tool not only identifies retracted references but also helps  you contextualize your references as well.
Let's get started.
Step #1
The first thing you need to do is open the Scite's Retraction Check on your desktop browser. Once you open the online tool, you will be taken to the following page: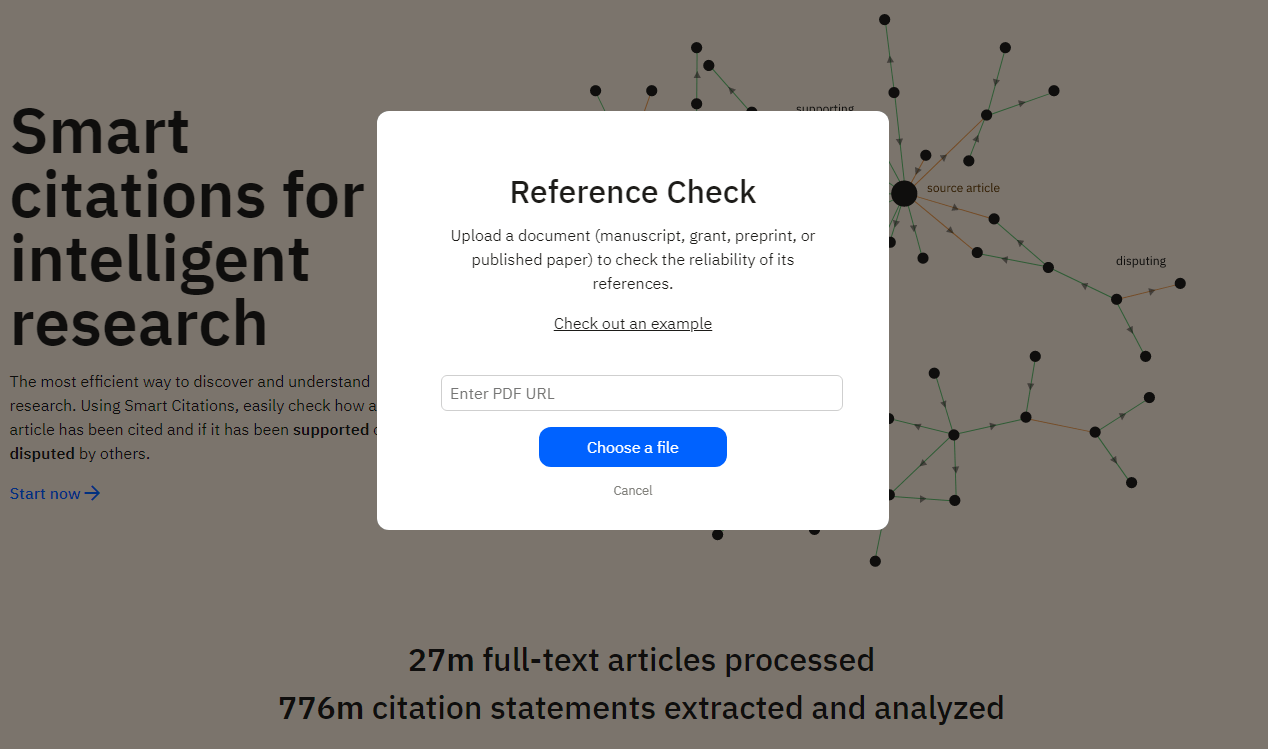 Step #2
In this step, you click on the  link "Check out an example"  for retraction checking. Once you click on the link, the following interface will appear: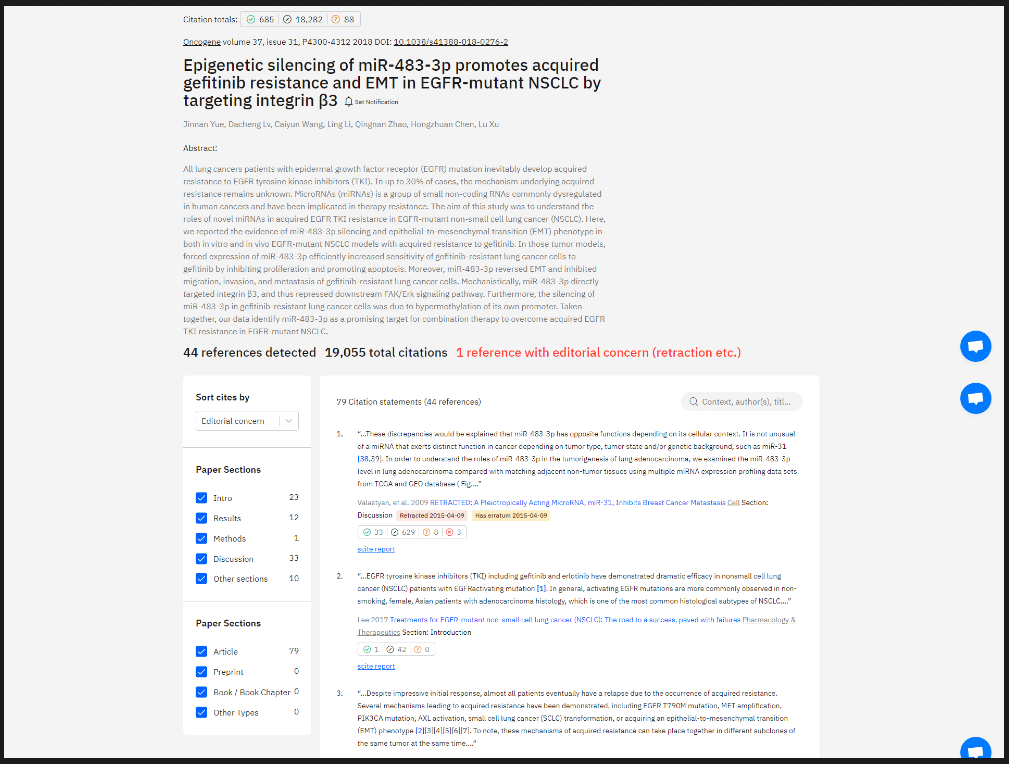 Check Out an Example from Scite 
You can sort the cites by the following modes:
Editorial Concern
Location in Paper
Most supported
Least Supported
Most disputed
Least Disputed
Most Recent
Least Recent
Step #3  Using PDF URL
In order to  check the reliability of your references, all you need to do is upload a research article, preprint, published papers (pdf) from your local computer or you can insert the PDF URL (Uniform Resource Locator).
Once you upload the article, the Reference Check parses and extracts out the references from your paper and check for retractions.
After extracting in-text citations and references it matches them against their database. It generates report with the information like whether the references are disputed, supportive and how they have cited.
This tool shows you how its references have been cited elsewhere. Besides, you can also see if articles were retracted, received an expression of concern.
Below is the snapshot of some extractions in Scite: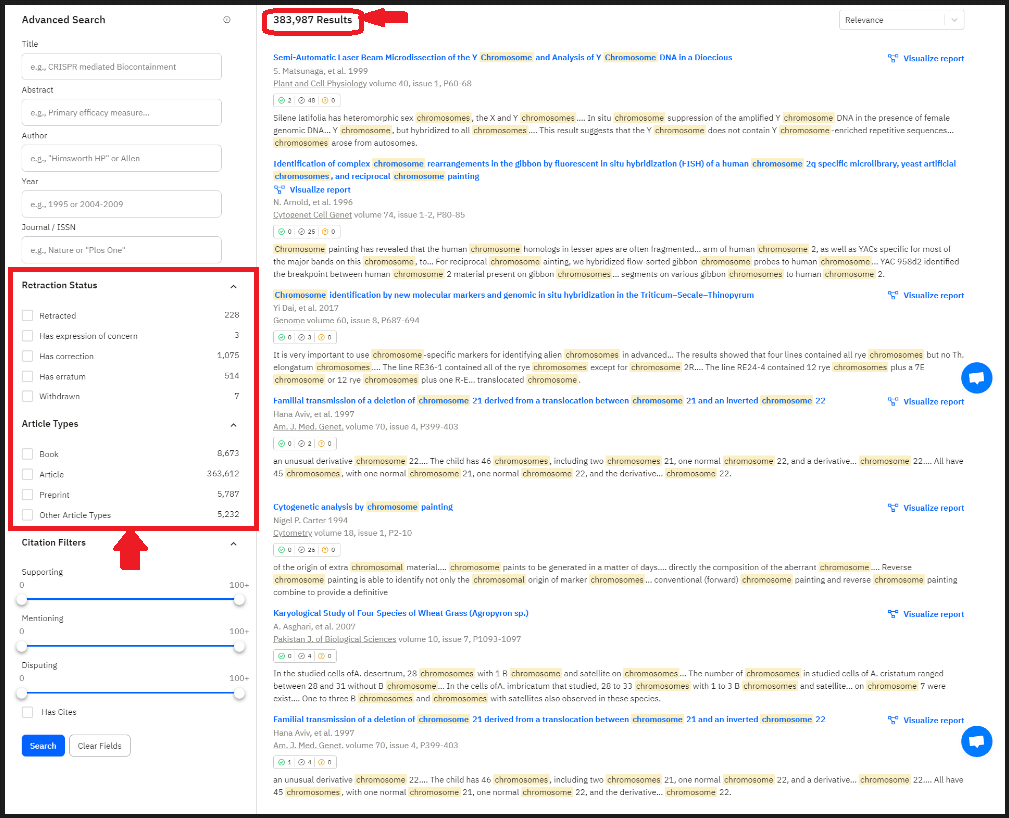 Once you apply Reference Check, the following information to be added to your references:
1) Display citation count- supporting, disputing, and mentioning cites
2) A report that your reference has been retracted.
You can also integrate this tool to Zotero and Mendeley reference management software. In our previous post, we discussed on how to insert citations into a word document using Zotero.
In this post, we elaborately discussed how to check the reliability of your references using Scite's Reference Check.
We hope this post was helpful and gave you some ideas on how to check the reliability of your references using Scite's Reference Check.
If you want to know more details visit the Scite's  website.